EU-IoT Final Event: From IoT to Cloud-Edge-IoT Continuum – Takeaways and Transition to the New Paradigm
March 30 @ 9:00 am

-

11:30 am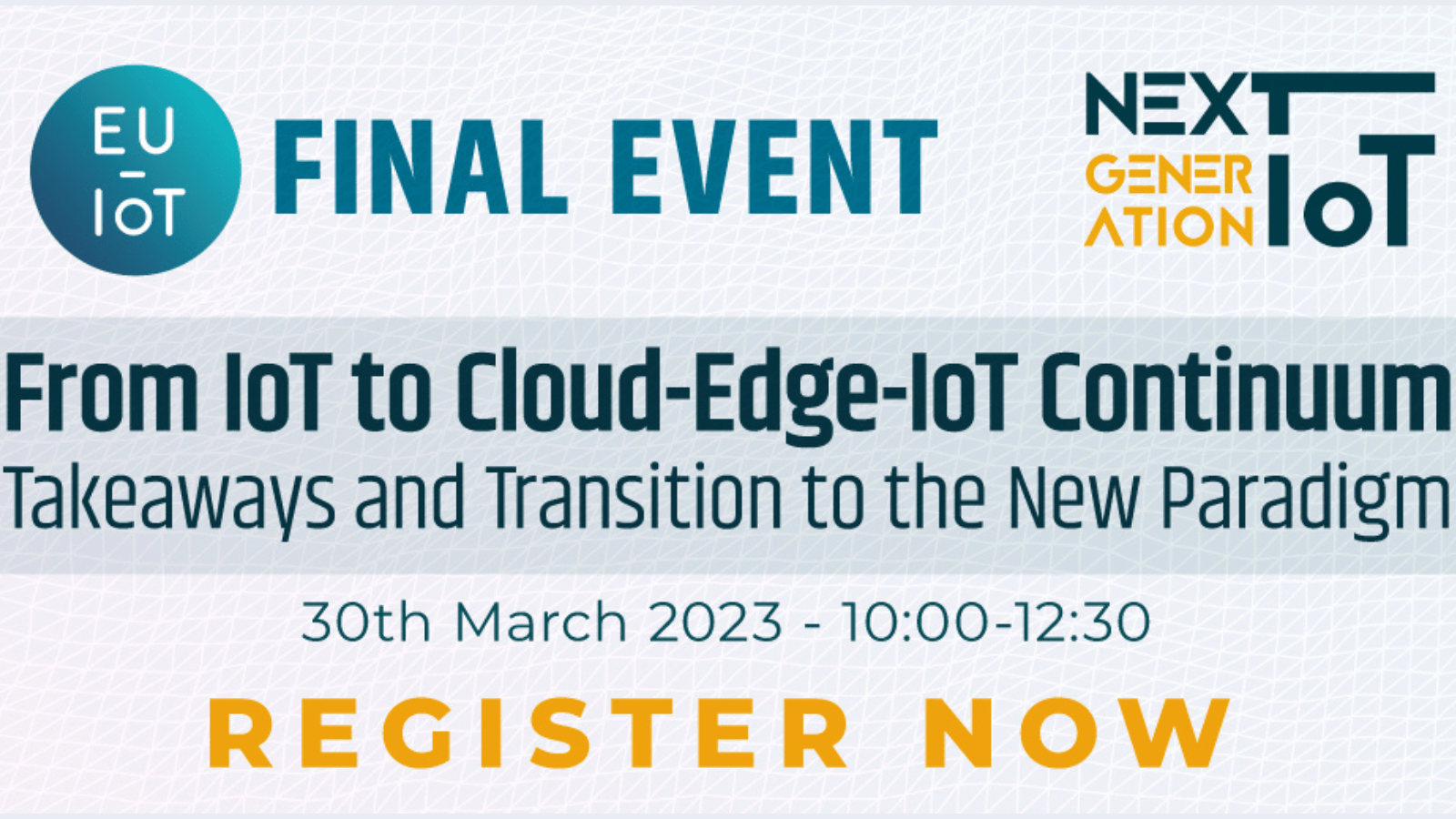 EU-IoT Final Event: From IoT to Cloud-Edge-IoT Continuum – Takeaways and Transition to the New Paradigm
The EU-IoT consortium would like to extend an invitation to the wider community to attend the upcoming Showcase Event, which will mark the end of the 2-year project. Since kicking off in November 2020, the project has aimed to transform the current IoT community of researchers and innovators in Europe into an increasingly cohesive, dynamic, participatory and sustainable ecosystem, as an essential part of a Next Generation Internet.
EU-IoT has been a vital accelerator for the European IoT ecosystem, supporting the development of synergies, fostering strategic coordination among Next Generation Internet of Things (NGIoT) projects and related initiatives, and promoting the adoption of IoT solutions. As the project comes to a close in March 2023, this event provides an opportunity to reflect on the achievements and lessons learned and explore the future of IoT in Europe.
The event will feature presentations from key stakeholders who will be showcasing some of the most important outcomes of the project, engaging with other relevant projects that will follow from the work done on the EU-IoT such as the EUCloudEdgeIoT initiative.
Join us for this exciting and informative event and be part of the next chapter of IoT in Europe.
AGENDA
10:00 – 10:10   Welcome
Dr. Monique Calisti, Coordinator EU-IoT
Jan Komarek, European Commission
10:10 – 10:30   NGIoT research priorities and recommendations towards a solid standardisation
EU-IoT has been analysing and working with 6 flagship ICT-56 projects, following their research areas and developing recommendations towards a solid standardisation. This talk will present the findings and recommendations derived during this action.
Dr. Rute C. Sofia, fortiss
10:30 – 10:50   Guidelines for IoT Collaboration Sustainability
In this talk EU-IoT will provide a view on the qualitative and quantitative findings collected within the ICT-56 flagship projects, highlighting success stories and innovative research findings.
Continuing the success and development of the NGIoT tech, A review of the impact of the NGIoT Initiative and key highlights and outcomes for Research and Innovation
Dr. Manel Khelifi, fortiss
10:50 – 11:10   Market
NGIoT Business models and key sectors for use cases, How EU-IoT has worked to document different IoT applications from a technological and business development perspective. In total 30 use cases that represent best practice have been collected and analyzed from various sectors, countries and organizations. based on insights from the study, business development literature and theory, an e-learning platform has been created to offer various tools and methods that support and accelerate IoT business model innovation. All content of the platform is publicly available on the NGIoT website, uses creative commons licensing and is designed in an easy to use self-service context. The platform is presented so that future projects and organizations can benefit from the results produced by EU-IoT.
Mirko Presser, Aarhus University
Foresight predictions for key use cases of the Cloud-Edge-IoT and development across the key sectors for the EU economy
Golboo Pourabdollahian, IDC, Coordinator UNLOCK-CEI
11:10 – 11:35   Skills
IoT Specific Skills Taxonomy
How different stakeholders can design learning paths to support training, education and career development objectives with the IoT skills taxonomy, the EU-IoT training catalogue and a methodology for constructing skills profiles.
John Soldatos, Netcompany-Intrasoft
Addressing the convergence of Cloud-Edge-IoT in future skills demands for the DIGITAL programme.
Brendan Rowan, Coordinator LEADS CSA
11:35 – 12:00 Future Outlook/Strategic Direction 
SRIA gaps, policy impacts
Ecosystem and community
Dr Monique Calisti, Martel Innovate
12:00 – 12:30   Future of the European Cloud-Edge-IoT
Rolf Riemenschneider, IoT Unit, European Commission
Maria Tsakali, Cloud Unit, European Commission